I just signed up to do this linky party/gift exchange! I'm so excited to put together a fun little package. I have so many ideas...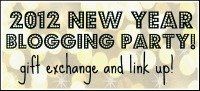 When I reach 50 followers I'm going to do a blog giveaway.
I love having this blog. I love all the people I've "met" since I started this in September. I love getting up every morning to have my coffee and read all your blogs.
Maybe one day I can actually meet some of you in real life :)